Major Pest Control Pest Information Library. Helpful information on Bed Bugs in Canada And How To Control Bed Bugs.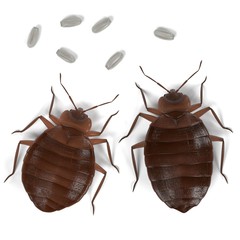 Bed Bugs – Description
Bed bugs (Cimex sp.) are common household pests in Canada and elsewhere. As parasitic insects, they must live near their hosts. Given humans are bed bugs' hosts, bed bugs live in homes, hotels, and other structures humans are regularly found. Their needs are minimal, requiring only a safe area near their human hosts. Bed bugs quickly move to bite the exposed skin of sleeping humans and then return to their hideout following their blood meal. Despite their small size, bed bugs are able to travel greater than three meters from their hideout to take a blood meal but are more commonly found in closer proximity to their host, usually one to two meters.
All About Bed Bugs
BED BUGS – Frequently Asked Questions & Concerns
Are you looking for help with bed bugss? We're here to help.
We're happy to help where we can. Reach out to us for a quote on bed bug extrmination or control, and remember we guarantee your satisfaction with our pest control services, or they are 100% free.
Check out our reviews from google below.
SATISFACTION GUARANTEED! 5 STAR REVIEWS
6 REASONS TO CHOOSE MAJOR PEST CONTROL
Summary
Article Name
All About Bed Bugs - Pest Library Canada - Bed Bugs & Bed Bug Control
Description
All about bed bugs in Canada. How they live and how to control or exterminate them. Frequently asked questions about bed bugs. Answered by a certified associate entomologist. Pest Control In Canada. Courtesy Of Major Pest Control Canada.
Author