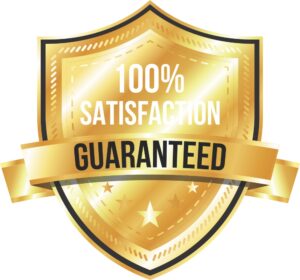 We Promise & Deliver Great Pest Control Services To Our Clients.
If you are not satisfied with our services and the results we will refund your money. View the details below and contact us with any questions.
Hear it from Christina, one of our clients.
We really care about our customers. That's why we guarantee your satisfaction. Count on us to take care of all your pest control needs. We're here to help!
We promise and deliver great service to our clients.
Major Pest Control has the best guarantee in the business! If you hire us and at the end of 30 days you aren't 100% HAPPY, we'll come back and retreat your home for FREE. And we'll keep treating it for free until you tell us you're happy. If that still doesn't make you happy, we'll give you back every penny you spent for your original treatment – PLUS – we'll give you $25 for your time and trouble! Try finding another company that will put that in writing!
We believe in always giving our customers more than what they pay us for. We believe in always going the extra mile in everything we do.
Major Pest Control Is A Pest Control Service Company In Red Deer Alberta Providing Professional Extermination Services 24/7 That Include Bed Bug Treatment, Cockroach Treatment, Ant Treatment, Mice Control, Wasp Removal, Rodent Control, Pigeon Control, Wildlife Removal and more.
Dear Homeowner,
If you're like most Red Deer homeowners, your home is your most prized possession and you want to protect it from damage and contamination from pests such as cockroaches, bedbugs, ants, mice, etc.
You want a pest control company who will get rid of the problem FAST and FOREVER.
You want to pay a FAIR PRICE and not a penny more.
You want a POWERFUL GUARANTEE and to know that the company will stand behind it without question.
You want to deal with TOP PROFESSIONALS you can TRUST to do the job RIGHT.
You want to know that, if you ever have a problem or a question, the answer is just ONE PHONE CALL AWAY, day or night, and even on the weekends.
Rest assured, Major Pest Control Red Deer will provide you with all of the above…PLUS a lot more!
3 BIG REASONS to choose Major Pest Control:
All of our technicians are Licensed Pest Control Operators! (No "certified" amateurs here)
You will have a direct line to the owner of the company 24/7! (No run-around ever)
We have a GUARANTEE that is UNMATCHED by any of our competitors! (If you're not happy, you don't pay!)
Try finding another pest control company who offers that level of expertise and commitment.Listen, We don't want you to just give us your business. We want to EARN IT. So give us a call and let us PROVE to you why our customers stay with us forever!If you've got a pest problem…or simply a question… call Major Pest Control now at 780-906-0911 and we'll be happy to speak with you any time.Thanks for reading this… and I hope to hear from you soon. Here's to helping YOU live PEST FREE!
6 BIG REASONS to choose Major Pest Control Red Deer